Mannix & Co. Solicitors,
12 Castle Street Tralee, Co. Kerry,
Phone: 066 71 25011,
Fax: 066 71 25848, email: info@mannixj.com
*In contentious business, a solicitor may not calculate fees or other charges as
a percentage or proportion of any award or settlement.
This website does not use any analytics and therefore there are no cookies.

Our Team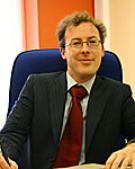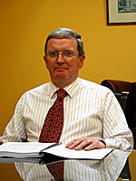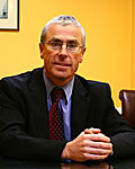 Joseph B Mannix, solicitor
Commenced in private practice in 1983 having qualified a year earlier. He studied law at Trinity College, Dublin and the Law Society of Ireland and
worked with Robert Pierse & Associates, Listowel and Michael Pattwell & Company, Clonakilty where he gained extensive experience in litigation and
general practice prior to setting up on his own. He has wide ranging experience in the field of litigation for both plaintiffs and defendants and equally
in licensing, commercial law, debt recovery and criminal defence. He is a former member of the Council of the Law Society of Ireland and served on its
Complaints and Client Relations and EU & International Affairs Committees. He is a former President of Kerry Law Society.
Mark Bennett
Qualified as a solicitor in 1982, having attained his law degree at University College Cork and studied at the Law Society in Blackhall Place. Mark has
extensive experience in corporate and commercial law, conveyancing both commercial and private,insolvency, probate and general practice. As a
partner in the firm of Connolly Sellors Geraghty in Limerick for 12 years prior to the formation of the present Mannix & Company, he advised many of
the businesses established in the Shannon Free Zone and the Plassey Technological Park attached to the University of Limerick, as well as Shannon
Development itself. Since joining the firm in 2002 he has concentrated on commercial and private property, commercial and corporate practice,
insolvency and probate law.
Gearóid Ryall B.C.L
Qualified as a solicitor in 1995. He is a graduate of University College Cork. Gearóid joined Mannix & Company in 2000 having spent 3 ½ years working
in the Chief State Solicitors Office in Dublin as an Assistant Solicitor. He became a partner in 2002 and deals mainly with litigation but also has
extensive experience in all areas of general practice. He has particular expertise and experience in Criminal Law, Family Law and *Personal Injuries
actions.
Marguerite Fitzgerald B.Corp.Law LL.B
is a graduate of the National University of Ireland, Galway and qualified as a Solicitor with the Law Society of Ireland in 2006. Marguerite joined
Mannix & Company as an apprentice Solicitor in 2004 and now works in all areas of General Practice dealing mainly with Conveyancing, Probate,
Litigation, Family Law, Debt Collection, *Personal Injuries and Refugee Law. Marguerite gained previous experience in the Company Secretarial
Department of Farrell Grant Sparks Accountants, Dublin and also worked in the Circuit Court of Cook County, Illinois before joining our firm.